Codemotion Warsaw 2016 Location
Kino Atlantic
Chmielna 33 St.
00-021 Warsaw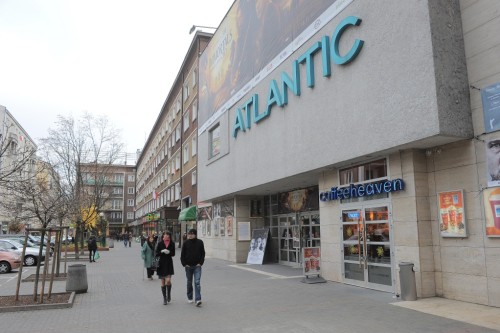 ---
Getting there
The conference is taking place at the Atlantic cinema in the heart of Warsaw, on ulica Chmielna. The cinema is in walking distance of the Palace of Culture and Science (Pałac Kultury i Nauki), Warsaw's most visible landmark. In direct proximity of the venue there's a variety of bars, restaurants, pubs and shops.
By Public Transport
We recommend you reach the cinema by public transport. The closest metro station is Centrum on the M1 line, but you can also walk from Świętokrzyska on the M2.
Centrum is also served by tens of bus and tram lines – in fact there is hardly a place in Warsaw from which you can't reach Centrum directly. The easiest way to plan your journey is with jakdojade.pl app. As you can walk around the center, we would recommend getting single tickets for most rides – they cost 4,40 PLN and lasts 75 minutes, which is enough for most journeys. If you want to stay after the conference and do some sightseeing, there is a weekend ticket which will last Friday through Sunday.

By Train
Atlantic is in walking distance of two railway stations: Warszawa Centralna and Warszawa Śródmieście. Centralna serves mainline connections with other cities, while Śródmieście is served by local SKM an Koleje Mazowieckie trains.

By Car
We do not recommend coming to the venue by car. Parking is extremely tight, and you have to pay for it on an hourly basis, which gets expensive. On top of that Chmielna is a pedestrian zone, so you will have to park on the surrounding streets – Bracka, Szpitalna, Widok or Zgoda.
If you do want to come by car, you can access this area from aleje Jerozolimskie (631) and turn north onto Krucza, or from Świętokrzyska (719) by turning south onto Jasna.

---
And after talks?
Warsaw is vibrant and diverse when it's warm. Our venue puts you right in the centre of most bars and clubs. If you want to make the most of the end of Summer, make sure to check out the bars along Vistula river – it's a 20 minute walk or three tram stops on any line going east (get off at Most Poniatowskiego).
If you want to see the city, you can walk along Chmielna to Nowy Świat and then along Krakowskie Przedmieście – that will take you straight to the Old Town.
If you just want a beer, we recommend the courtyards of Chmielna and Foksal – there are plenty of small pubs, clubs and cafes. If you don't want just any beer, you will find multitaps along Nowogrodzka. If your group loves both cocktails and craft beer we recommend the Zamieszanie and Cuda na Kiju combo next to Rondo de Gaulle'a. They have great outdoor seating and booze to satisfy connoisseurs.
For clubs, hit Mazowiecka and Kredytowa. Miłość is nice and more upscale, but on weekends you should expect a queue. If you can't decide, head to Warsaw's classic: Plan B at Plac Zbawiciela.